Important Information Regarding iOS 17
Dear Valued FreeStyle Libre iPhone users,
As part of the upcoming iOS 17 release, Apple® is introducing StandBy Mode and Assistive Access Mode. We wanted to bring this to your attention as these features may impact your experience with your FreeStyle LibreLink1 app if you choose to upgrade to iOS 17.
While our teams work quickly to verify and confirm compatibility, we recommend you disable automatic operating system updates on your mobile device. Please check the compatibility guide before installing a new operating system version on your smartphone. If you decide to upgrade to iOS 17 you will find the information you need to know below.
StandBy Mode:
This new feature activates the iPhone lock screen when the phone is charging and positioned on its side. This mode may impact your ability to receive notifications from the FreeStyle LibreLink1 app.
If you plan to use StandBy Mode, it is important to configure your phone settings correctly. Follow these three steps to ensure you continue to receive time-sensitive notifications: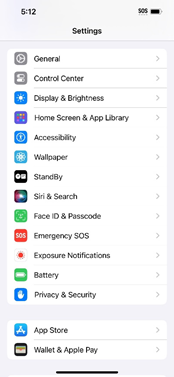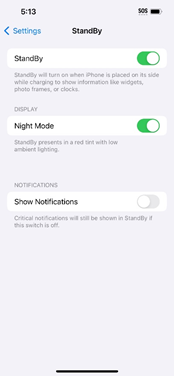 3. Turn ON 'Show Notifications'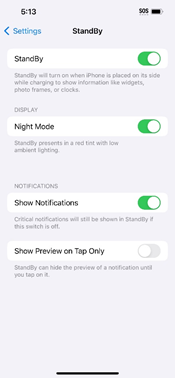 Assistive Access Mode:
This mode distills apps and experiences into their essential features to lighten the cognitive load for people with disabilities. At this time, we do not recommend using this mode when using your FreeStyle LibreLink1 app as it will impact your ability to activate a Sensor.
If you need further assistance, please do not hesitate to reach out to our Customer Care Team at 1 800 272 2881 (Monday to Friday, 8:30am - 5:30pm excluding public holidays).
Sincerely,
FreeStyle Libre Team
1.The FreeStyle LibreLink app is only compatible with certain mobile devices and operating systems. Please check the website for more information about device compatibility before using the app. Use of FreeStyle LibreLink may require registration with LibreView.
ADC-81697 V3.0